BEBEDORA: DEMONIC PUPPET MONSTER OR LIVING PROZAC?
You decide.
Bebedora and Paulette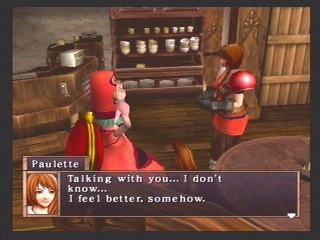 Just by reading Paulette's thoughts and telling them back to her, Bebedora somehow manages to cure Paulette's depression. This, in turn, leads Paulette to convince the hopeless town of Yewbell to care again. (That part reminds me a lot of It's a Wonderful Life.)

Bebedora and Maru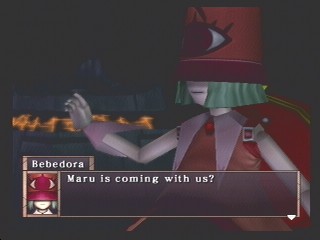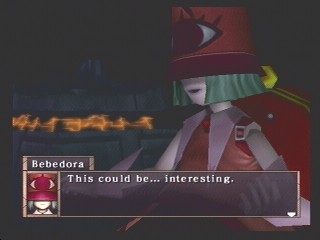 Ah, young freaky RPG people in love...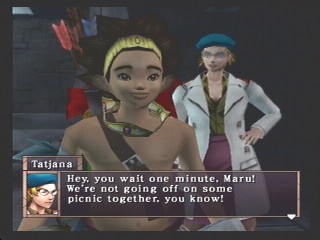 Forget it, Tatjana, his mind's pretty much gone bye-bye.
Bebedora and Tatjana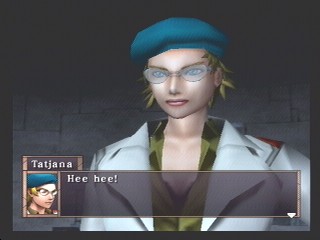 Now, you see, Tatjana giggling like that is NOT normal. She hardly ever smiles, let alone giggles like a little schoolgirl. I think the fact that a hard-headed, no-nonsense scientist who hates all Deimos unconditionally could laugh and giggle at Bebedora is sure proof that Bebedora is walking, talking Prozac.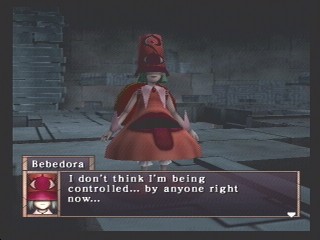 Yeah, maybe she's gloomy...obsessed with destruction and despair...and maybe she's just really, really downright weird...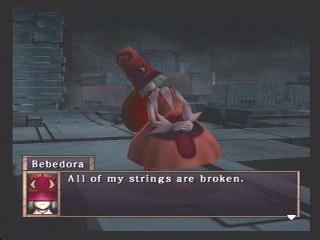 But I'm beginning to think she's just the most adorable thing in a game, ever.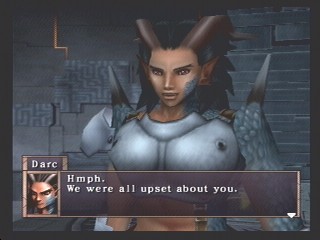 See? She even makes Darc smile. Now how often does that happen?