---
NIGHTS
JOURNEY OF DREAMS
This is okay as far as modern CG boxart goes. My only concern is that it looks like it could've come from irtc.org.
---
NINJA GAIDEN 2:
THE DARK SWORD OF CHAOS
Ninja Gaiden 2 has the best cover art in the series, IMO. It's similar to the original Ninja Gaiden's, but the addition of the dragon adds a lot more coolness.
---
OGRE BATTLE
THE MARCH OF THE BLACK QUEEN
That guy in the bear suit wins this one.
---
OUT OF THIS WORLD
Like some cheesy horror movie poster art. That beast's face is pretty cool.
---
PAC-MAN
I like this artwork for the 5200 Pac-Man. I think this is one of the few times (maybe the only time?) Pac-Man is depicted on box art without arms and legs and yet still looks "3D". On all other boxart I've seen, he either has arms and legs, or is a flat circle. It's also an interesting camera angle used for the maze.
---
PENGO
This is my favorite Atari 5200 art. Many oldschool game cover artists had a real knack for style and perspective.
---
PRINCE OF PERSIA
Holy cow @ the Super Famicom box art for Prince of Persia!
---
PSYCHONAUTS
Psychonauts has some really interesting background art and style. I like how each "tear" in the background depicts a different scene, which is something you don't see too often in modern game boxart. (Minus 1 point for that ridiculous GameSpot quote.)
---
PUGGSY
Psygnosis makes some nice boxart.
---
RADAR RAT RACE
This is from the manual, but the box had the same artwork. I really wish I could find a scan of the actual box since the cat's face wasn't obscured.
---
RAIDERS OF THE LOST ARK
Along with being really cool Indiana Jones art, it's unique. The only other place you could find this artwork is on the game cartridge's label itself. (Click For Larger Version)
---
ROCK MAN 2
My favorite Mega Man box art is the Japanese version of Mega Man 2.
---
SAGA FRONTIER 2
A lot better than the first SaGa Frontier's cover art, that's for sure.
---
SECRET OF EVERMORE
But it does make you wonder how he's going to beat that thing with that tiny little bone he has there...
---
SECRET OF MANA
This art reminds me of the works of Henri Rousseau, who is one of my all-time favorite painters.
---
THE SECRET OF MONKEY ISLAND
Not too fond of the look on that guy's face, but the rest is absolutely gorgeous.
---
SHADOW OF THE BEAST
I'll bet this was done by the same artist who did Brataccas. It's like a nightmare version of a Henri Rousseau painting. Thanks to CodieKitty for this one.
---
SHADOWGATE
This is just great use of perspective and color. The living gargoyle bursting out of the stone statue motif will always remind me of Zuul and Vince Clortho from Ghostbusters.
---
SHADOWRUN
Neat logo. This one also scores points for having a low-key background while still making it relevant to the game and interesting.
---
SOUL BLADER / SOUL BLAZER
The hero may look like "every anime-style RPG hero ever", but I still love this Japanese Soul Blader art.
The American version, Soul Blazer, gets rid of the guy and Deathtoll, and focuses more on the mountains and castle in the background, but it's still decent landscape art. Love the purple sky.
---
STAR FOX
What can I say? I'm a sucker for the use of models.
---
STUNT RACE FX
More fun with cute clay models. This one gets bonus points for them being cute clay model cars with cartoon eyeballs.
---
SUPER MARIO STRIKERS
I think a lot of modern games have really dull boxart, but this is one that caught my eye when I first saw it in the store. A lot of power and kinetic energy in every brushstroke. And it's nice to occasionally see Mario characters drawn in a different style.
---
SUPER MARIO WORLD 2:
YOSHI'S ISLAND
The great thing is that the in-game graphics would be quite similar.
---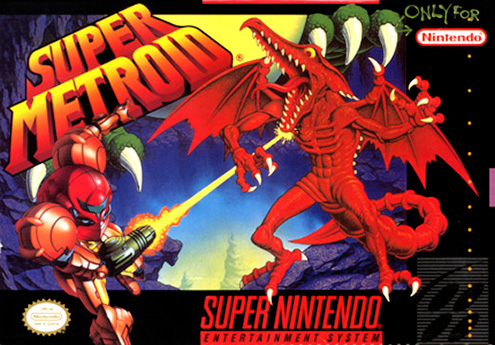 SUPER METROID
Good use of color, neat drawing of Ridley...though it kind of looks like Kraid hung himself in the background.
---
TEENAGE MUTANT NINJA TURTLES
2: THE ARCADE GAME
If a version of this exists without that obnoxious Pizza Hut ad and someone could send it to me, I'd be much obliged to you.
Super Galvatron sent me a version of the boxart without the Pizza Hut ad. Click here to view it.
---
TEENAGE MUTANT NINJA TURTLES
FALL OF THE FOOT CLAN
I used to have a sticker that had the entire full version of this same artwork on it. The full version looked much more impressive, but this box gets brownie points for using it anyway.
---
ULTIMA 3: EXODUS
Holy fuck, is that so much cooler than the NES version's boxart!
---
WEAPONLORD
Both the Genesis and SNES versions of this game have the same boxart, but because it's vertically-aligned, the Genesis version shows us more of Korr and Zarak.
---
WIZ N LIZ
THE FRANTIC WABBIT WESCUE
This one speaks for itself.
---
YARS REVENGE
When I was a little kid, I thought it would be cool to have a Yar for a pet.
---
YS: ANCIENT YS VANISHED
This is the MSX cover art for Ys. Thanks to Sweetbee for this one.
---
ZACK & WIKI
QUEST FOR BARBAROS' TREASURE
I have no idea what this game is about, but that's the closest anything's come to making me want a Wii.
---
ZANAC
I have no idea what's going on in this one, but it's still awesome.
---
ZODA'S REVENGE: STARTROPICS 2
Awesome drawing of archvillain Zoda holding the Oxford Wonder World book. As Crawl pointed out, this cover has the added bonus of the artwork wrapping around to the spine (which cannot be seen here, unfortunately).