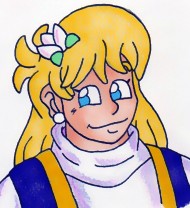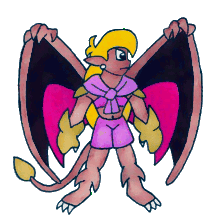 Robin Calypson - Robin is the traveling partner of Chester Hallet. She is a very talented magician, pilot, and singer. Part of the reason her magic acts are so good is because she knows real magic. She is, however, suffering from some kind of amnesia, and remembers little about her past. When memories do come back to her, they seem to make no sense. She remembers flying, she tells Chester, and she doesn't mean inside a flying vehicle, like either of the two airships that she and Chester own. As it's revealed one day when a stressful situation causes her to suddenly transform, Robin is actually some kind of demon with a human form. In her demon form, she is large, cat-like, and has wings, which explains the flying memories. But it's still unknown exactly what kind of demon she is or where she came from (it is believed she is half earth demon and half human and probably came from Spochella). Although this revelation comes as somewhat of a shock to Chester, he doesn't abandon her. In fact, he claims he always knew something was different about her, especially since it's extremely unsual for pure humans to be able to use magic without wielding some kind of magic-imbued artifact. Robin is friendly, strong, and outgoing like her partner Chester, but she keeps her feet in reality, which has saved their skin on more than one occasion.

Robin and Chester met in a scrapyard where Chet had been building an airship. He had come home on a rainy night to find her sitting on his doorstep lost, confused, and unsure of who she was. Ever since then, Chester has felt a sense of responsibility to take care of her, even though she is certainly not incapable of looking after herself. After she learned to trust him, Robin began assisting Chet in the construction of his airship and eventually learned to pilot it, too. Despite their quirky differences, the two have been inseparable friends ever since.

Robin's weapon is her magician's wand, which is more than just a stage prop. It has real magical powers contained within it. She also has a sai-type weapon that can be used as a dagger or shoot a beam. Her exact age is unknown, but Chester estimates that she is somewhere between 18-20.